We spent a great 4 days at Tony and Wendy`s place in Congewai. It is a lovely property with a great spot for the van down by the dam. Unfortunately you will all have to take my word about it. I took some great photos, but the camera had a 'spack attack' and I accidently erased them. (Alright it was operator error!!). So it gives us a good excuse to go back there at some time??
Tony cooked not one but two great roast dinners whilst we were there. Congewai is about 16 kms from Cessnock so it was a long drive LOL. Having enjoyed T & Ws wonderful hospitality it was time to move towards our next sit so we could meet with the clients, to make sure we would all be happy with the sitting arrangements.
We spent 4 days at MacNamara Park near the village of Broke. It is a long narrow free camp along the creek (Wollombi Brook). It was nice and quite when we were there, but we reckon it could get pretty busy during school holidays. There was a toilet and that`s about it. But plenty of room and level spots (more lost photos). On leaving Broke we we went to visit our next house sit clients Rob & Joan at Kurmond. We met them and their lovely cat (Poppy) and ended up staying for a couple of days on their property. Lovely couple and everything went well. Looking forward to the sit.
From there we drove to Lithgow to spend a week in the Lithgow Tourist Park about 2kms from town. There were a lot of railway workers staying at the time, so it was quite busy. The place is a little run down, but at least it was cheap ($150 plus power for a week). While we were there we visited the Small Arms Factory Museum.
Lithgow Small Arms Factory Museum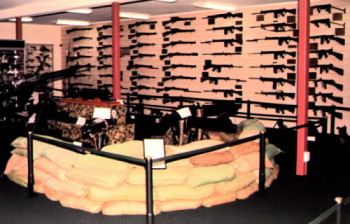 It was well worth the $6 each to get in. "
The museum houses one of Australia's most comprehensive collections of machine guns, rifles, pistols and related items from around the world. Unique to this museum are Australian designed experimental, prototype and pre-production weapons.
On display are numerous non-military items manufactured at the well known Lithgow Small Arms Factory during its 80 years of precision engineering, including sewing machines, sheep shearing handsets, hand cuffs and many other commercial items."
A lot of the collection was donated by a Queenslander after the QLD government said they were not interested. (Typical, wankers!) Even if you are not interested in guns, it is a very interesting and informative visit to make when in Lithgow. I am not going to mention the lost piccies again!! except to say I am really p#ssed about it. I had not realised how many I have lost until now. Grrr!!
We moved from Lithgow to Newnes camp ground, about 48 kms down a very steep road, through the Newnes State Forest to the start of Wollemi National Park. It was a bit of a a hairy drive, but beautiful country from rain forest to rolling stock country.
Newnes Village, or what is left of it was a shale oil mining area in the earlier days (way back!). There is a tourist information centre which was the original Hotel. Thomas does a very nice coffee and biccies for $2 each.
That`s right folks only $2
. He is also building (by hand) some tourist cabins just behind the hotel. The camp ground is about 1km from the hotel. It is a magnificent and
FREE
camp ground in the middle of sandstone bluffs and peaks under-lined by bright yellow Wattle trees in full bloom. (and yes I have piccies YAY!). There are drop toilets/dump point, but facilities wise that is all. So you must be entirely self-sufficient with power and water as we are.
As you can see by the photos, there was plenty of native wildlife around. It was the first time we have seen Wombats in the wild. Mornings and nights were a little chilly so the diesel heater got a good work out. We stayed there for 4 days and except for the first night we were the only people their. Heaven!!
On the first day the rangers and staff pumped out the 2 drop dunnies, which was good because they were pretty full. On the 3rd day we drove across the creek to the other camp area, and then walked up to the remains of the old shale oil factory and railway station. The camp area on that side of the creek was only suitable for campers and tents. They were some great spots as well. The Mungrill got a good work out as well while we were camped, as we actually remembered to get some firewood before we arrived. So we cooked dinner on it then used it as a camp-fire at night.
Not long after we arrived, a chap arrived towing a camper trailer. He proceeded to erect the trailer taking lots of photos as he was going. We sat and watched him complete the exercise, taking about 45 minutes, and then after more piccies
he took it all down again.
This was way too much for my curiosity to bear (alright I am a nosy bastard
) so I went across to ask him what on earth he was doing? Apparently he worked for one of the caravan and camping magazines,and he was testing a new camper. Mystery solvered!!
Eventually, we had to pack up and leave Newnes and head towards our next sit. It is definitely a place we would return to, but not during school holidays.
Our next stop was the town of Blackheath in the Blue Mountains. A pretty place, but it gets a bit crazy on the weekend when all the trendies come up from Sydney for their lattes etc. We stayed at the Blackheath Caravan Park, just out of the village near Govetts Leap. The town, park and surrounding area had a mini cyclone through about 6 weeks ago and they were still cleaning up all the fallen trees and mess when we were there. It did a lot of damage to the caravan park. They lost about 40 trees altogether, not counting any trees that fell throughout the town. It is owned by the council and under new management, so it is a work in progress. So far they are doing a great job.
Down the road is the tourist spot, Govetts Leap. It is a famous landmark in the Blue Mountains and a great lookout and is the start for walking trails of varying distances from 20 minutes to 10 hours. Needless to say we did the 20 minute one. It was well worth the walk, with fantastic views across the mountains.